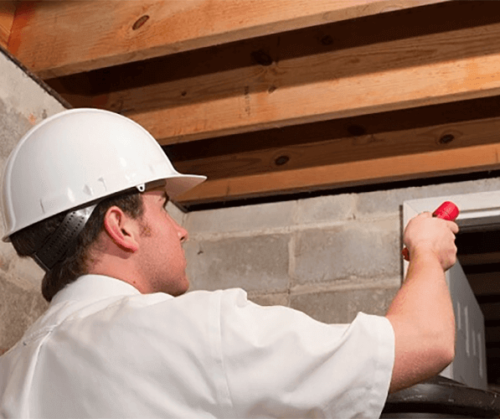 Our home inspectors will help you make an informed real estate transaction. Roofing, plumbing, electricity, humidity, mold… our home inspection services leave nothing out. Book your pre-purchase home inspection online. Contact us now; our offices are open until 8:00 p.m.! 
Click here to see all our home inspection services.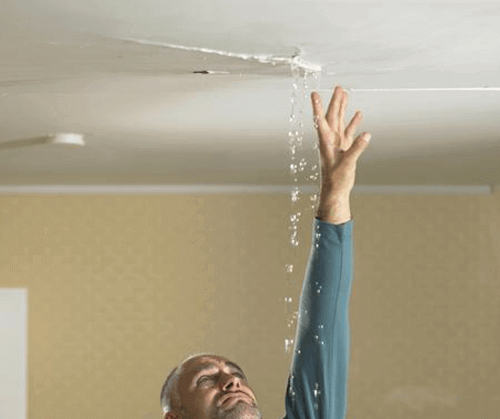 Facing water infiltration problems? Having doubts about your indoor air quality? Feeling any discomfort? Fearing the presence of mold? Our building experts will identify the source of the problem, provide guidance and help for all the required remedial work to help you correct the situation once and for all.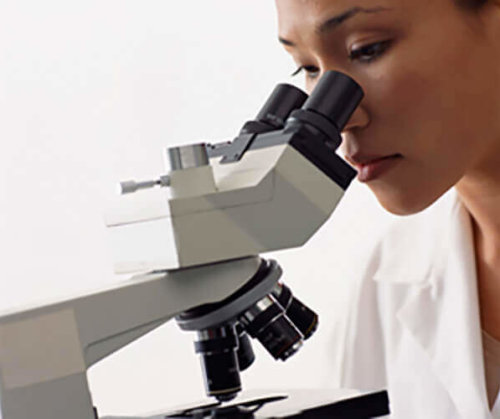 Find out what's hiding in your home with our range of analysis services and offer your family a healthy living environment. Whether it's radon, air and water quality, asbestos or mold (air quality test), our specialized technicians are here for you. Pair the analysis of your choice with a home inspection service and save time and money !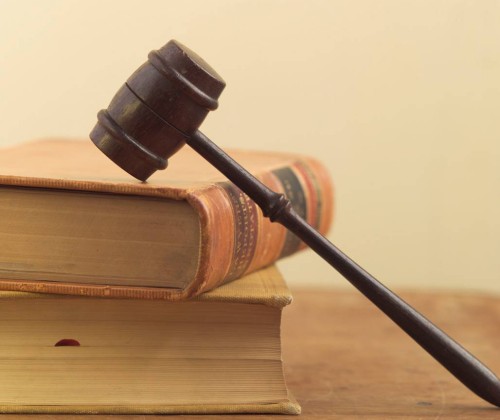 You are not alone anymore. Whether you are facing a case of litigation, of hidden defect or for a counter-expertise, our experts are here for you. Recognized in the Court of Justice, they will accompany you through the whole legal process and give you clear and understandable explanations.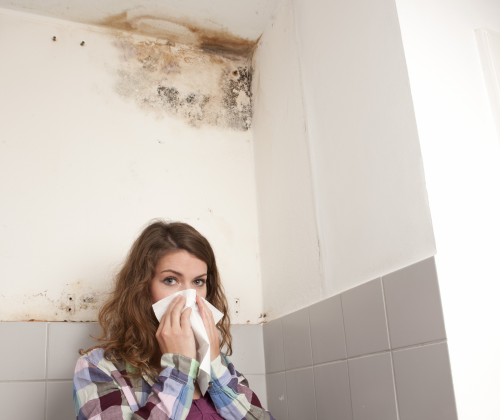 You or family members are frequently sick with colds, bronchitis, nosebleeds or itchy eyes? You're entertaining doubts about the air quality inside your home? Our experts will identify which contaminants afflicting your family, find the source and help you correct the situation efficiently.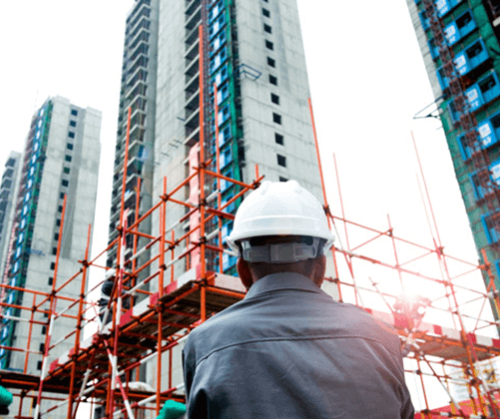 Thermography, water and airthightness, reducing heating cost, energy efficiency, building inspection; no matter what your needs are, when it comes to building and home inspection Legault-Dubois has the solution you need. With over 50 000 completed cases and more than 20 years experience, we are the team you need !
To become a CAA approved supplier, a company must meet really high quality standards and is evaluated on the basis of rigorous criteria:
Credibility and skills: number of years in business, affiliations, verification of complaints, permits and licences, etc.
Solvency: the complete verification  of the company's financial profile.
Compliance: civila liability insurance, tax number, contracts and invoices, etc.
Reputation: a customer survey is conducted by an external company on the quality of the work done by the supplier, its customer service, employee courtesy and much, much more!
CAA recommended since 2010, we are proud to present the results of the latest survey conducted by an external firm.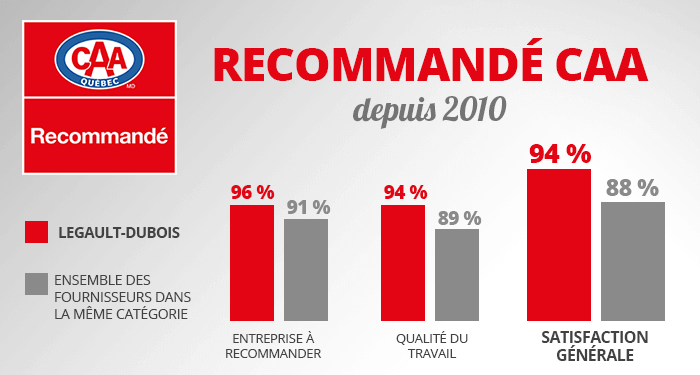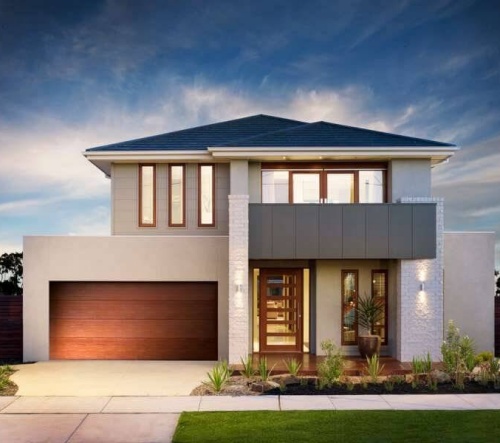 Whether it's for an air quality or an insulation problem, for a pre-sale or pre-purchase home inspection as part of a real estate transaction, about a home's energy efficiency or for anything else, you can trust our renowned team of building experts and home inspectors! Our home inspection services are designed to bring you peace of mind.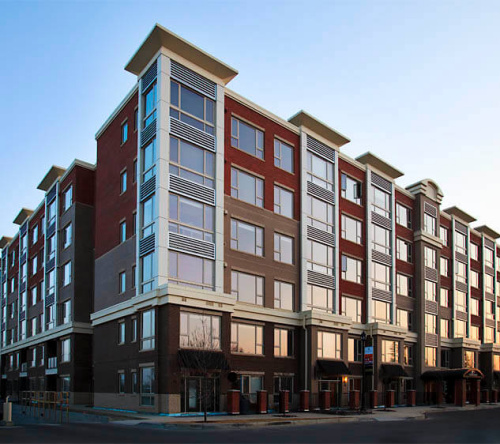 Facing an odor diffusion problem between units, discomfort or unpleasant air drafts? Need a pre-purchase inspection of the complete analysis of the numerous condo-related documents (insurance coverage, asset management plan, etc.)? Put your trust in Legault-Dubois; our multidisciplinary team of building experts and home inspectors is here for you!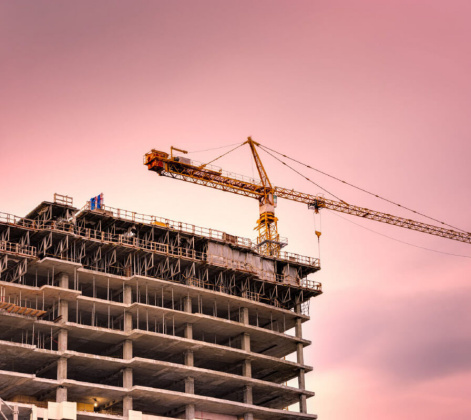 Whether you are a building contractor, lawyer, insurer or other professional and you need a blower door test or training on building theories, our building experts are ready to help you! You need some technical help? We offer a telephone consultation service so you can discuss your situation with a building professional for a fraction of the cost of an on-site visit.
SHORT TELEVISION DOCUMENTARIES ON LEGAULT-DUBOIS
Legault-Dubois participated in the filming of two short documentaries as part of the Habitat-Mag broadcast on the Télémag channel. The first documentary presents the company, its history, its accomplishments and development of projects as well as its main services. The second one deals with our home inspection services, laboratory analysis and expertise in more detail. Altought only available in french for now, these informative capsules give you the views of our employees on the company, the responsibilities of home inspectors and the work of building experts. We invite you to view the documentaries below and learn more about Legault-Dubois and the jobs of home inspector and building expert.
* All videos available in french only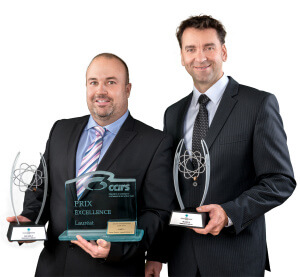 LEGAULT-DUBOIS IN A FEW FIGURES
SATISFIED CUSTOMERS REVIEWS
« Très satisfait des interventions de votre personnel pour l'amélioration (..) de notre demeure. Vos Chroniques Habitations nous ont éclairés sur des éléments qui composent notre environnement, mais que nous avions tout simplement oubliés dans notre quotidien comme les gouttières. »
– Robert Pilon, Beloeil
« Votre évaluation m'a permis de rendre pertinent les investissements faits sur ma maison en plus de me permettre de constater que les travaux avaient été bien exécutés en comparant les résultats avant et après les rénovations. »
– David Noël, Les Îles-de-la-Madeleine
« La technicienne qui a effectué le diagnostic est très professionnelle, d'une efficacité remarquable et ses conseils sur place furent d'une grande utilité pour continuer à bonifier (…) notre maison. Nous sommes entièrement satisfaits de son intervention. »
  – Annie Paquette, Salaberry-de-Valleyfield
OUR EXPERTS AND INSPECTORS WILL ALWAYS ACT IN YOUR BEST INTEREST