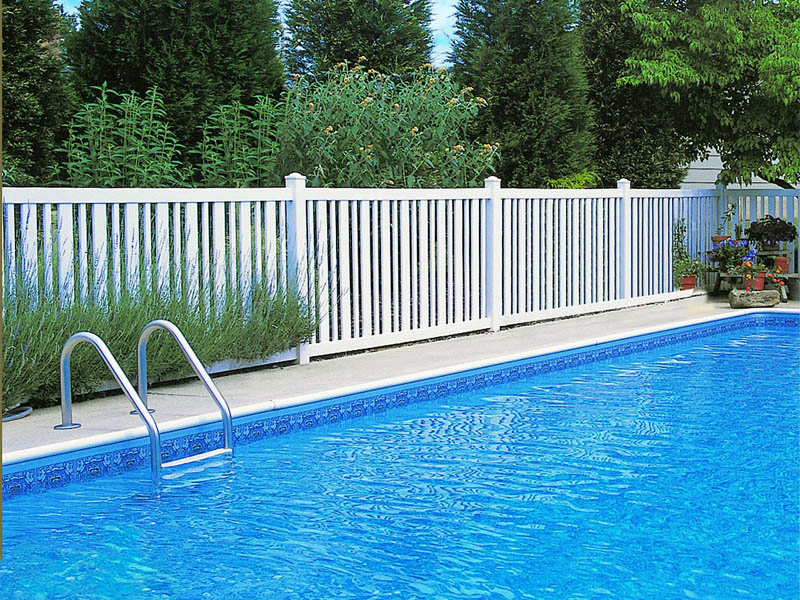 Enjoy your pool… in complete safety!
Although the numbers are steadily declining, there is still an average of 73 people each year who dies of drowning in Quebec. Listen to our five tips (in french with english subtitles) to increase safety around your pool and, together, lets bring down this sad statistic.
Do you have questions following your self-evaluation?
Exchange with an expert for a fraction of the price of a visit
thanks to our online technical consulation service
1. Fencing
A first important point is the installation of a fence. A fence allows you to limit access to the pool both from the yard and from the house directly if the patio is connected between the two. In order to effectively restrict access, it is important to erect a fence measuring a minimum of 1.2 meters (4 feet) high from the ground or the last accessible step: among other things, the surface of a patio. This fence must also have a maximum spacing of 10 cm (4 inches) between the bars so that a child cannot pass through the bars.
It is also important to keep away all objects that can be used to climb over the fence or the walls of the above-ground pool. There should also be a minimum distance of 1 meter between the pool and its filter.
2. Access to the pool
In addition to being able to lock the door providing access to the pool, it must be equipped with spring hinges so that it closes automatically behind you. For above-ground pools without a patio, it is recommended avoiding the use of ladders that must be removed after each swim and to opt instead for a ladder that also has a device that allows it to close the door behind it.
3. Potential electrical hazards on the ground
In addition to the access to the pool, electricity is also one of the elements to consider for safety. The electrical wires that power your pool's motor and filter must be inserted in a pipe and grounded. In addition to preventing the protective sheath from being damaged when mowing the lawn, a buried wire is less likely to cause someone to trip. Also, all outdoor electrical outlets must be equipped with a ground fault circuit interrupter, commonly known as a GFCI, with an intact and working grounding.
4. Electrical hazards from above
In addition to the potential electrical hazards on the ground, hazards from above must also be managed. The greatest electrical hazard actually comes from medium voltage wires and wires that are connected to your home. Your pool must be at a good distance from these wires to avoid accidental contact between them and an object, such as the cleaning pole that would be used to remove leaves in the pool. If one is able, with a cleaning pole, to touch the electrical wires above our heads, it is understandable that we would find ourselves in a dangerous situation.
In order to verify the conformity of your electrical installation with respect to your pool, Hydro-Québec offers on its website (click here to reach the page) a short pictorial questionnaire that allows you to easily visualize the distances to be respected between the electrical wires and the pool vicinity.
5. Check before you start
Finally, the simplest way to stay safe after buying a pool is to be properly informed about this type of installation. The regulation regarding the safety of residential pools, which was adopted in July 2010 by the Government of Quebec, sets out the standards for this type of installation, including the pool itself and the enclosure used to limit its access. Since its coming into force, all owners wishing to install a pool must comply with this regulation, otherwise they would find themselves in violation of the law.
This by-law is the responsibility of the municipality and they can issue even more stringent requirements if they wish. Therefore, we invite you to ask your municipality to know exactly what their own requirements are with respect to pool installations and the safety enclosures. For this reason, our experts always recommend to our customers, during the inspections done as part of a pre-purchase inspection or a preventive inspection, to check with the municipality before starting the installation of a pool.
We can also help you check with the municipality and give you the information we will get from it. If you wish to learn more, we invite you to visit the Lifesaving Society Quebec website, where a self-assessment test will allow you to evaluate your situation yourself and make your pool safer.
If you have any questions about this video or any other problem associated with your building, please contact us. At Legault-Dubois, our experts are here to help you find the exact causes of the various problems you encounter, but also to provide solutions that are impartial so that the problem doesn't reappear and you can sleep well at night..
Do you have questions following your self-evaluation?
Exchange with an expert for a fraction of the price of a visit
thanks to our online technical consulation service