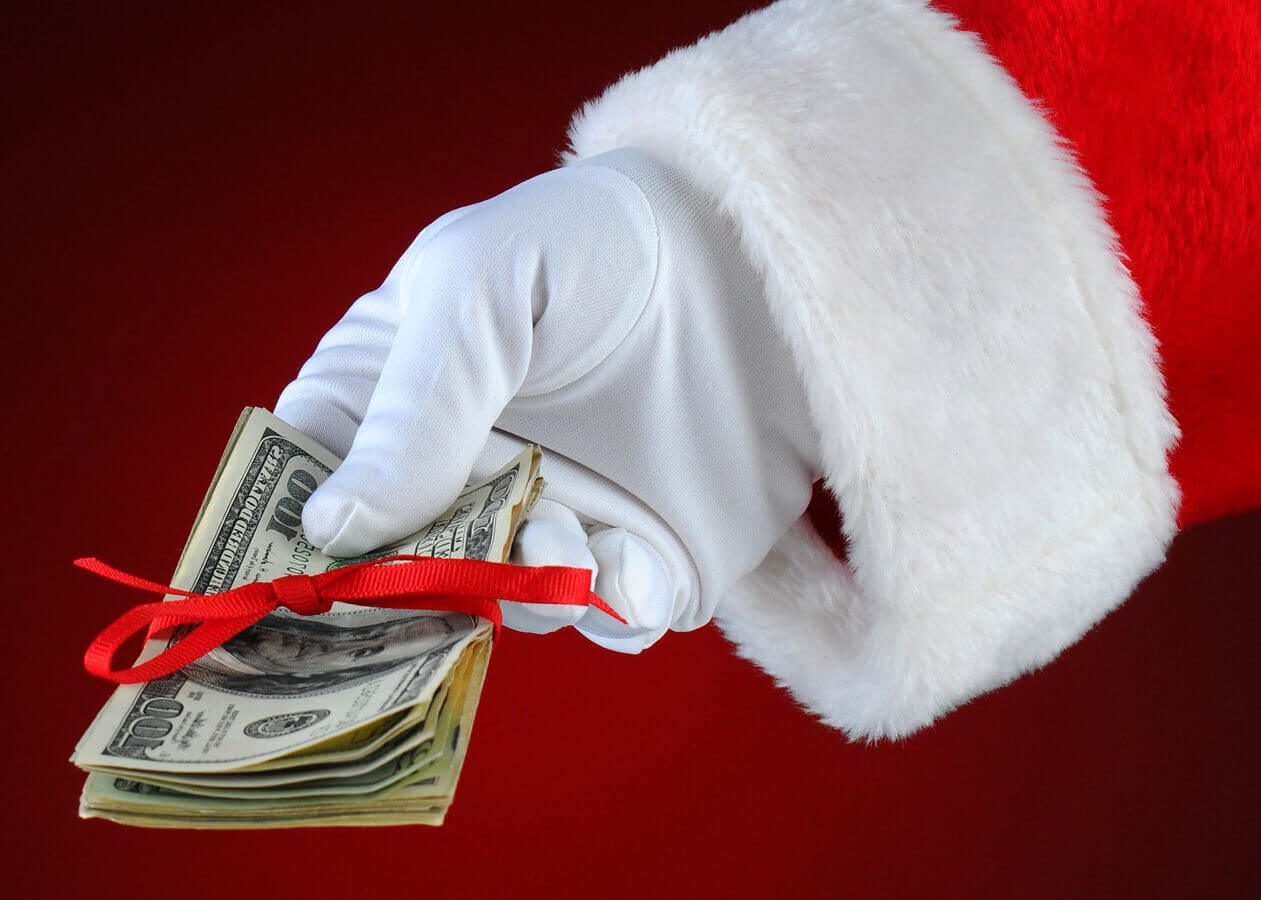 Offer subsidies as a gift!
Your electricity bills are high and your spouse plans to review the insulation of the house? Your daughter has just acquired her first home and plans to do some work? Your mother feels cold drafts while sitting in the living room? This year for Christmas, put aside unnecessary gifts and think outside the box: give your loved ones a present that will allow them to benefit from subsidies and save on their heating costs. How? Read our article and learn how to make people happy while helping the environment.
The recipe is simple and practical: all you have to do is offer a Rénoclimat ™ registration to one of your loved ones. With this participation your loved one will be visited by an energy advisor who will make an initial assessment of his home and guide him toward the most beneficial work. He will then obtain a report including the building's energy rating and a list of work to prioritize to improve it. Following the completion of eligible renovations, he will be entitled to a second visit from the advisor as well as access to numerous subsidies. The cost for the first visit to participate in the program is $ 150 plus tax (for a single-family home), while the second visit is free!
Examples of eligible renovations? Take the insulation of the attic. Depending on the amount of the existing insulation and the planned home improvement, the addition of insulation in the attic can provide a subsidy of up to $ 975* and energy savings of $ 250 per year. Never has a gift been so rewarding!
Your brother-in-law plans on installing an air exchanger to solve his condensation problem in the windows? If he installs an eligible heat recovery ventilator (HRV), he can receive $ 490* in financial assistance and improve the interior air quality of his home. What a breath of fresh air for Christmas!
Your mother complains of discomfort because of cold drafts? During the assessment, the consultant will perform a blower door test to target the location of the air leaks responsible for this discomfort. Grants to solve this problem could even reach $ 490 *. So for Christmas, do we give mom slippers and a big sweater or do we improve the comfort of her house?
These are just a few examples of the benefits of participating in the Rénoclimat ™ program. For more information and full details of the conditions and amounts of subsidies available, consult the Transition Énergétique Québec government website here.
So if your best friend, your godchild, your husband, your son or even the famous brother-in-law plans to renovate, why not pay for his or her participation to the RénoclimatTM program? Print the coupon below, put it in a beautiful festive card and tell him to slip you the bill once the program registration is done! And voila. All that remains now is to wish each other a happy new year 2018!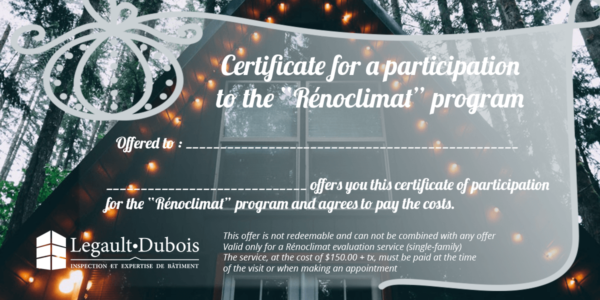 *.. Important information about financial aid
RénoclimatTM is a registered trademark of the Government of Quebec. An amount of financial assistance from Transition Energétique Québec for the RénoclimatTM program could be awarded if all basic requirements have been met, such as increasing the energy rating by a minimum of one point. For more information, see the normative framework of the program by clicking here.
Please note that the eligibility of buildings for financial assistance is at the discretion of Transition Energétique Québec and the amounts quoted in this newsletter are for illustrative purposes only. Under no circumstances should Legault-Dubois be held responsible for non-eligibility for financial assistance.